Main Content
Come explore with us this summer!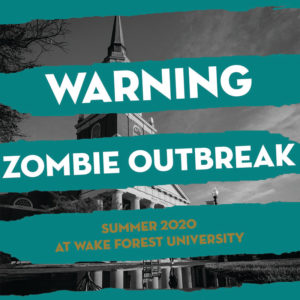 Are we on the verge of a zombie apocalypse?
Our campus is scattered with zombies due to a mysterious viral outbreak! Help us stop the outbreak by engaging your curiosity, critical thinking, and problem-solving skills in a six-day experiential summer STEM program. Design and build a zombie detector, dissect a zombie brain and purify contaminated waters to eliminate the virus before it's too late!
Topics Covered
STEM

Neuroscience

Epidemiology 

Sustainability

Hydrology 
Hands-On Learning
Soil Sample Analysis 

Zombie Brain Dissection

Develop a Water Purification System 

Build a motion detector 

Sustainability Techniques
Energy Resources

Engineering a delivery system
A Day in the Life of an Explorer
Time

Activity

8-9 a.m.

Breakfast

9-9:30 a.m.
Morning Mission Meeting: How did the outbreak begin?
9:30-10:30 a.m.
Introduction to Neuroscience
10:30-11:45 a.m.
Neuroscience Activity: Zombie Brain Dissection: dissect an "infected" brain to determine the cause of zombie symptoms & behaviors
11:45 a.m.-12:45 p.m.
Lunch & Zombie Protection Training Activity: Zombie Freeze Tag
1:00 p.m.-2:00 p.m.
Introduction to Disease Epidemiology
2:00-3:15 p.m.
Disease Epidemiology Activity: Scavenger Hunt:

interview recently infected patients, trace disease evidence and collect data across campus

3:30-4:15 p.m.
Zombie Survival Kit Construction
4:30-5:30 p.m.
Free Time
5:30-6:30 p.m.
Dinner
6:30 p.m.-8:30 p.m.
Evening activities
8:30 p.m.-9:30 p.m.
Prepare for Bed
9:30 p.m.
Lights Out
At a Glance
Program Week Options
June 14-19, 2020
June 21-26, 2020
July 5-10, 2020
July 12-17, 2020
Eligibility
Rising 7th Grade through Rising 9th Grade
Program Location
Program Length
Program Tuition
$2,350, need-based scholarships are available to those who qualify
Day or Overnight